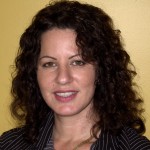 Welcome, and thanks for visiting! Below you'll find a short bio of my experience and credentials...or the longer version, if you'd like. I'm also a mom, stepmom, cat mom, and lover of animals in general. In my free time, I enjoy Zumba, reading, boating, and doing home improvements alongside my husband, Mark.
Short Bio
Lori Verni-Fogarsi has been an author, speaker, and small business consultant since 1995. She is the author of the novels, "Momnesia" and "Unexpecting," which have won four awards, as well as "Everything You Need to Know About House Training Puppies and Adult Dogs," which enjoys being one of the most highly recommended in its nonfiction genre, and "Ignite," a spicy anthology of short stories. Lori works with small businesses, offering "concierge-style" services, so they receive only what they need. This ranges from marketing ideas and creating materials, to building websites, coordinating events, and more.
Wait...why is there a dog training library on here?
My first business was as owner of a dog training school! A Certified Master Dog Trainer, I specialized in family pets, teaching obedience and solving behavior problems for 15 years. During that time I also wrote a syndicated newspaper column for five years, and taught seminars at colleges, corporate, and private venues on dog behavior and small business. My housebreaking book was also published during this time, and I put together this online library of free dog training tips so I could help people and their pets further than my immediate geographic area.
Detailed Bio
Lori Verni-Fogarsi's career has developed in an unusual way! She originally received her education at Katharine Gibbs Business School, and started her first business, a dog training school, in New York where she was born and continued to reside into adulthood. During that time, she started a company newsletter to keep in touch with clients, vets, and other referral sources, and was initially surprised when she started being contacted by other magazines and newspapers, requesting articles for them!
Over the next several years, her writing and business consulting career began to develop, as she wrote articles for a multitude of newspapers and magazines, and began teaching seminars on dog behavior and small business at colleges, corporate, and private venues.
After getting married and having two children, she and her husband (who had joined her in the business) decided to relocate to North Carolina in 2004, where they still live today. They sold the dog training school in New York and opened a new one in Holly Springs, NC, (just outside of Raleigh). Lori's first book, "Everything You Need to Know About House Training Puppies and Adult Dogs," was published, and continues to be highly recommended in its genre by pet professionals to this day. She also wrote a syndicated newspaper column for the Heartland Communications family of newspapers, which continued for five years.
After an amicable divorce, Lori decided to pursue writing, speaking, and business consulting full-time, and her ex-husband continues to own and operate Best Paw Forward Dog Training in Holly Springs, NC. She went on to work as a newspaper journalist and columnist, and began teaching more in-depth seminars on small business, marketing, and women's issues. She also began designing websites and offering her concierge-style small business consulting services, so she can offer a suite of services that allow clients to pick and choose only what they need.
In 2009, Lori married again to her husband, Mark, and became a stepmom to two more children, totaling four. As of the writing of this bio (2016), one has graduated college with a degree in marine biology, one is a U.S. Marine, one is a freshman in college, and the youngest is a high school sophomore. All are productive members of society, with jobs, morals, and only the rare "big terrible drama" to sort out. So far, so good!
In addition to the business consulting and speaking, Lori has published three more books: her novels "Momnesia" and "Unexpecting," which have won four awards, and "Ignite," an anthology of tasteful erotic fiction written specifically with moms in mind. She has been featured in various major media, including, "The Boston Globe: Moms," "The Lifetime Women's Network: Balance Your Life Road Tour," "Oprah Magazine," "The My Carolina Today Show," a popular, call-in Q&A radio show, and many, many more.
Just a few of the venues where her seminars have been offered have included North Carolina State University, SAS, Nassau Community College, and the National Association of Massage Therapists.
In her free time, Lori and her husband Mark enjoy traveling, doing home improvement projects, and spending time at their second home in Lake Gaston, VA. Lori also enjoys Zumba, reading, and boating. She is an animal lover who has three cats (all rotten), and volunteers with animal rescue organizations, sometimes fostering a dog or cat, helping with events, or helping with cleaning or other tasks at the shelters.