"Everything You Need to Know About House Training Puppies & Adult Dogs," was my first book, based upon 15+ years of experience as a Certified Master Dog Trainer and owner of two dog training schools. Here's what it covers: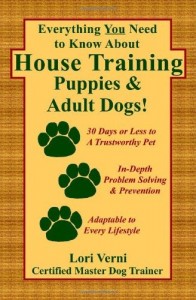 Whether you have a puppy first learning, an adult dog with ongoing confusion, or simply want to teach your pet to use a designated area, all of your questions are answered!
30 Days or Less to a Trustworthy Pet!
 Crate training, problem solving, troubleshooting, sample schedules and more!
Does Your Puppy or Adult Dog Do Any of These Things?

Simply has no clue?
Has accidents right in front of you?
Has accidents only when you're not watching?
Requires walking a zillion times per day?
Leg lifting/territorial marking indoors?
Submissive or excitement urinating?
Occasional accidents in a particular spot?
Refuses to make in front of you on walks?
Accidents in the crate?
Won't go out in the rain?
Eliminates over your entire yard?
Or any other issues?
Also perfect for recently rescued dogs to help ensure they adapt well to your home!
Without a doubt, housebreaking is an issue that is of top priority to every dog owner. Pets can be a very enjoyable part of life… but not as much if your carpets, furniture, or other items are being ruined!
Realistic methods to help you teach your dog. Including sample schedules, charts, and answers to all of your questions.
Crate Training
Understanding How Dogs Think
In-Depth Problem Solving
Feeding & Watering Schedules
Teaching Your Dog to Understand
Adaptable to Your Specific Lifestyle
Designated Bathroom Area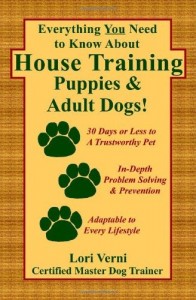 Sample Chapter # 1: Table of Contents: This will give you a good idea of just how much this book really covers! Housebreaking Dogs Sample Chapter TOC
Sample Chapter # 2: Introduction: Gives you a clear idea of the conversational style and goals you can expect with this book. Housebreaking Dogs Introduction
Sample Chapter # 3: Water: Get some free knowledge here! This chapter is just the tip of the iceberg, but can give you an idea of just how in-depth the book really is! Housebreaking Dogs Sample Water
Interested? Buy the book here.
"Everything You Need to Know About House Training Puppies and Adult Dogs" continues to be one of the most highly recommended in its genre since 2005! (By vets, rescue groups, readers, etc.)
Lori Verni-Fogarsi also provides educational seminars for colleges, organizations, and private events. Her professional writing related to dog training has appeared in numerous magazines and media, has been featured in Oprah magazine, and she has written a weekly syndicated newspaper column for 5+ years. See public speaking info here.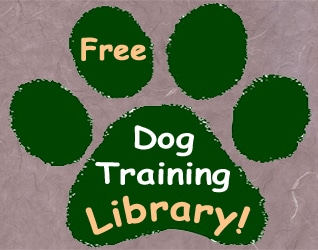 Did you know? There is a Free Dog Training Library right here on this website! Click here to visit it!