"Ignite" is an anthology of erotic fiction short stories written specifically with moms in mind. Compiled by Lori Verni-Fogarsi, it features 10 hot stories by 10 hot authors!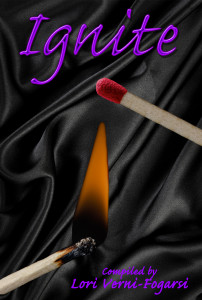 Whether you're a woman who has put passion on the back burner, or you're a hot mama who has been keeping things aflame, these stories are sure to light your fire!

Featuring authors…
Michael Bracken
Alice Bright
Shenoa Carroll0Bradd
Katherine Crighton
Julianna Darling
Kelly Lawrence
Jen Lee
J.R. Read
Lizzie Richards
Lori Verni-Fogarsi
Interested? Buy the book here.
Check out this article: Romance -vs- Erotica: What's the Difference?