Thank you for your interest in my public speaking! My experience is varied, and here is where you'll find a summary of venues and topics of my speaking engagements.
A SMALL SAMPLING OF SEMINARS, WORKSHOPS, PRESENTATIONS, & KEYNOTE SPEECHES I HAVE PROVIDED

Topic: Women's Interests
Lifetime Women's Network Balance Your Life Road Tour
My Carolina Today Show
Boston Globe's Mom Community (Live chats)
Many "Momnesia" parties
A multitude of radio programs
Southern Women's Show
Roanoke Valley Woman Show
Learn more about my seminars for women in business here.
Topic: Small Business
North Carolina State University School of Animal Science, (Small Business Careers)
American Association of Massage Therapists, Annual Conference (Creative Marketing Outside the Box)
Far too many networking and smaller events to list
Topic: Dog Behavior
Nassau Community College
North Carolina State University School of Animal Science
A multitude of public, private, and corporate venues
Many radio shows, including live, "call-in" Q&A
Topic: Keynote Speeches
A vast array of community events, some attended by over 4,500 guests, launching event as keynote speaker and MC'ing event, giveaways, announcing entertainment, etc.
If you may be interested in scheduling me to be a speaker at your event, please contact me with your proposal! I very much enjoy speaking to groups and am confident that my experience will help make your event a true success!
If you'd like, you may click below to download my speaking contract and we can fill it out once we've decided to move forward. If you have any questions or items that need to be adjusted, we can modify as necessary once you are ready to proceed with booking.
Lori Verni-Fogarsi Speaking Contract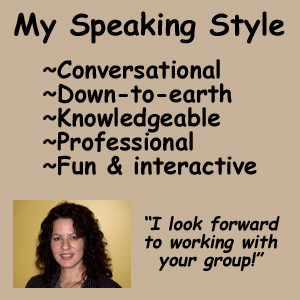 Thank you for your interest! Please feel free to share this information with other event coordinators, media, etc!
Sincerely,
Lori Verni-Fogarsi