Blogger Opportunity: Be a part of the HUGE launch of my next novel, "Unexpecting!" (Originally was going to be titled "Gramnesia.")
Who is This a Good Fit For? If you are a book reviewer, book blogger, or have a blog with readers who are women, moms, older teens, etc, this will be an excellent fit!
How Much Does it Cost? It's FREE! The event is designed to help spread the word about my new release. There are different levels of participation (all free) for you to choose from.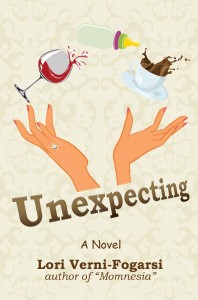 What is "Unexpecting" about? Shelley and David are a couple of almost-empty-nesters whose kids are just about all off to college. Their life is catapulted in a completely different direction when Alexandra, seventeen and pregnant, shows up at their door and announces that she's the daughter they never knew they had! (To learn more about "Unexpecting," go HERE.)
What do I have to do? Just pick one of the options below & follow the instructions!
Who the heck is Lori Verni-Fogarsi and how do I know if she's any good? If we're already acquainted, I'm pretty confident that you know I'm ethical, my books are professionally edited, and they're the proud recipients of several awards, great reviews, & major publicity. If we're just meeting now, I encourage you to peruse the site to learn about me, about my books, etc.
The book release date is April 19, 2013. The Blog Tour will take place April 19 through May 31.
YOUR POST MUST LAUNCH ON A DATE OF YOUR CHOICE BETWEEN APRIL 19 AND APRIL 28. (The $100 Amazon Gift Card Giveaway will run through May 31.) Thank you!
Thanks for visiting! If you enjoyed this, please comment and/or use the sharing buttons below!
I'm an author, speaker, and small business consultant. My books include: "Unexpecting" and "Momnesia" (Contemporary Women's Fiction), and "Everything You Need to Know About House Training Puppies and Adult Dogs" (Nonfiction). To learn more about my public speaking, business consulting, and more, please use the menu at the top of this page. Thanks for your interest!